Before I show you my new treasure, I wanted to thank all of you who commented on my craft room ceiling project!
Several of you were concerned about my neck being sore, but I can assure you, I never felt sore throughout the process. I was up and down so often on the step stool, and with applying the glue, I really had lots of breaks- so it wasn't like I was staring up at the ceiling for very long when I was doing it.
Another question that came up was, what was I using to adhere the pages to the ceiling?
Mod Podge!
A little 10 cent sponge brush and Mod Podge. It will be a horrific mess to undo someday, (!!) but I just love it for now, and when and if we are still here and want to change it out, I will be HAPPY to pay someone to take it all down for me! LOL!
(let's just not go there right now, and enjoy the moment.....)
On to my little show and tell / before and after!
****
Do you have a fixture or something in your house, that every time you look at it, you want to grab it and chuck it out the window?
The light fixture in our nook has bugged me from Day One.
I wasn't a huge fan of a lot of the light fixtures in this house- all new, all bronze, but with the exception of maybe 2- I haven't been in love with any of them.
But especially the nook fixture.
I was on my way to a baby shower on Saturday morning and noticed an "Estate Sale" sign at the end of our road. I wanted to do a U turn right then, but definitely did not want to miss my friend's shower, so I knew where I'd be going after it was done!
The sale was hoppin, and I made my way to the door. The garage door was open and I noticed a gorgeous antique crystal chandelier all lit up.
!!!
I had to. I just had to!
Especially when I saw the price!
Under a hundred bucks.
Isn't she fabulous in her sparkly splendor?
I even tried to bargain with the estate lady, but she knew I was too into it, and it was the first day of the sale. A girl has to try, right?
We needed to purchase a chain and ceiling plate, so once we had that picked up, we swapped out the old for the new.

Here was the before:

And now:
I soaked the crystals in a bath of warm water and white vinegar- equal parts- for 30 minutes and they are now super clean and sparkly.
I love the detail - the arms look like branches or antlers.
The naked version:
the detail with the crystals:
I am so happy with my new old chandelier!!!
I feel like a six year old on Christmas morning who says, "It's just what I've always wanted!"
Happy Monday!
sharing with: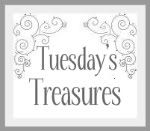 Thrifty Decor Chick Before and After Party