Accessorizing shelves really stresses me out. It should be a fun thing, but it's very intimidating for me. I guess I see all these fabulously dressed bookcases with cute/interesting little nick knacks thrown in, and I just feel like my stuff is so.....ordinary.
I've had interesting "things" in the past, but when we downsized 4 years ago, a lot of the "stuff" went too.
It was a good thing.
But now I'm rebuilding and trying to bring the stuff out that is not only what we like, but is personal to us.
Everything here is from the house- it was nice to set out a bunch of household stuff that I really liked and just pick and choose.
Like this vase- we got it as a wedding present, and I have always loved it....but never could make it work in any of our rooms! I am so happy to have it out!
I took off all of the dust jackets on our hardbacks- I like the look so much better.
Many of these books were my husband's grandfather's that he passed down.
The number 18 plaque was picked up at a local vintage/craft show last Christmas. I really liked it- and then realized that 18 is the day of our anniversary. ♥
:)
I love this silver candy tray, but it only gets used around the holidays. After I wrote the
post
on my grandma, I realized all of the things that had sentimental value to me of her, were packed away!
So I am putting both to good use- grandma's buttons that I love in a silver piece that gets everyday use now.
I also rearranged the furniture. I am liking this so much better. I would love to get another wicker trunk from Ikea to stack on top of the one I already have. Fingers crossed they still carry them.

The club chairs were side by side previously....
They really needed to be split up- it always felt kinda heavy on this side of the room!
The little table between the two club chairs was really nice- but again, it just felt kinda blah to me...when I was taking the room apart I happened to set the green tray/platter on top of it,
and found that it looked kinda nice there!
The bird print that I had to the right of the hutch...
got moved here:
I have our little Halloween owl next to the urn too.
(sorry about the crazy exposure- this room faces west so we get a lot of sun.
I was too impatient to wait to take the shot!)
The couch in it's new place.
I've also been working on that wall under the staircase. It's still in progress, but I like how it's coming together with some vintage prints and my thrift shop finds.
Next up- I have these two plain white pillow forms that are needing some covers! Hoping to finally do that this week.
While I was working on this room my mind kept wandering back to a few items I spotted in the thrift store this morning. And then I realized I might actually be able to use them! So of course I went right back and got them! I had been drooling over some vintage sheets that
Cheryl at A Pretty Cool Life
had picked up awhile back.
I've been wanting to get our bench outfitted with a cushion and some pillows and it all came together!
I bought these 3 twin size sheet sets for under $5. A couple of them look like they were never even used!
I'm thinking this second one would make some pretty cute pillows for my bench!
Hope you enjoyed seeing the progress of the makeover....next it's the office's turn. I need a few pieces to get it better organized. More pics to come!
Linking up to:
French Country Cottage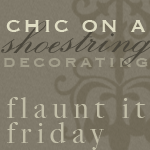 These Creative Juices
Nifty Thrifty Tuesdays
Trash to Treasure Tuesday
Somewhat Simple Strut Your Stuff Thursday
Frugal Friday at the Shabby Nest