A couple months ago I purchased this dresser:
...and since the time I purchased it, it has gone through many stages of development. I had an end idea in mind.
First- paint. 
Loved the green color, but the green didn't fit into the beachy blues in the new makeover.
painted Baby Blue in Valspar's spray paint. A little distressing on the edges too!
some accessories. Ho hum.
Next came the addition of some folder window shutters, and a sailboat that I painted tan to match the rest of the bedroom colors...
a vintage set of suitcases and a picnic basket also became part of the look.
and finally some chipboard letters that fit the overall look of the room. I kept them in their natural brown state, drilled some holes in the top and added some turquoise ribbon.
The jewelery holder was moved to the wall, and I simply hung the sawtooth hangers on these little hooks:
it helps to hold it away from the wall so the earrings aren't all smashed up on a flat surface.
So happy with the end result!! The vision I had in my head pretty much ended up the way I wanted it.
I wish I could say it was 100% done...
but it's not.
The blue suitcase will be getting a makeover soon with some paint, so it doesn't scream,
"Look at me!! I'm a blue suitcase!!"
:)
Happy Thursday!
I'm linking up to: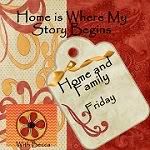 The Twice Remembered Cottage